Visit our restored historical bookbinding workshop and museum presenting this traditional craft.
Exhibition – opening hours for the public: 10 a.m. – 4 p.m.
May – September: from Wednesday to Sunday
October – April: from Monday to Friday
Entrance 80 CZK
Museum and Bookbinding Workshop of Jenda Rajman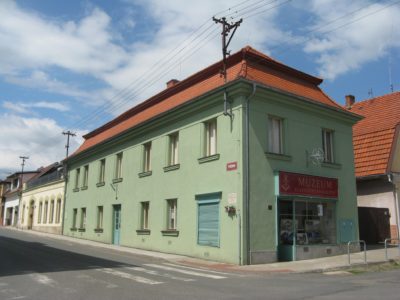 Visit this family bookbinding workshop with almost 100 years tradition and discover the unique set of classical bookbinding tools and machines. See beautiful manual bindings made by Master Bookbinder Jenda Rajman (1892-1965).
See our demonstration of traditional hand tasks such as sewing, rounding and backing the spine, attaching the boards to the book and covering the book with cloth or leather. Acquaint with book boards decorating or gilding.
If you are interested in hand binding, you are welcome in our project: Bind Your Book. Try classical bookbinding procedures, prepare your own binding design and bind your book.
Rajmans Visitors´ Book
Thanks to his craftsmanship, traditional bookbinder Jenda Rajman met a lot of famous Czech graphic artists, mainly painters. Some of them became his friends. For example Cyril Bouda (1901-1984), a painter, was visiting his bookbinding workshop. Also Karel Kinský (1901-1969), a graphic designer, or Pavel Šimon (1920 – 1958), a painter and graphic designer, were very kind guests to Rajmans. Master Rajman was also in frequent contact with Antonín Majer (1882 -1963) who liked and often painted Rožďalovice, where he used to stay in summer times. To express their thanks for hospitality the visitors left their drawings, pictures and memos in the beautifully bounded Visitors´ Book. Here we are presenting a sample of these works.
Jenda Rajman Endowment Fund
The Endowment Fund of Jenda Rajman aims to preserve and present his art and craft heritage in the place he lived.
Classical Bookbinding Museum and Bookbindery
Husova 24, 289 34 Rožďalovice (50°18'19.209″N, 15°10'10.784″E)
00420 603 226 632, 00420 604 241 049
dilna@rajman.cz
Museum entrance is from Husova street.
Bookbindery entrance is from Tyršova Street, the yellow house.